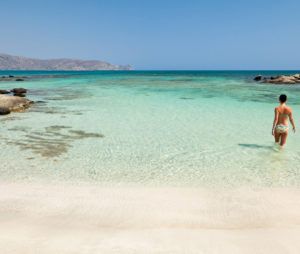 Starting to write about the destinations in the prefecture of Chania we could not mention first the most popular and why not, the most beautiful one.
Elafonisi is located in the southwest of Crete, just 90 minutes journey by car or bus. The route may look large for a march inside the prefecture but the picture that you will see once you reach the destination will reward you.
Colors that sparkle the eye and soothe the soul lie in every corner of the landscape! Translucent aquamarine waters, white and pink sand (due to crumbled shells) as well as dusty cedars will take you to a fairytale world.
The Island of Deer(that's the meaning of Elafonisi) is a few meters in front of the shore (which bears the Blue Flag) and all that separates you from it is a shallow and warm lagoon that you can easily cross, as the water reaches up to the knee. Of particular interest are the beaches on the south side of the island. Be careful as you leave the place, your pockets have to be empty of sand, as you can not get even a handful!
On the way to Elafonisi, you will find the whitewashed monastery of Chrysoskalitissa, which is worth visiting as far as the eastern side of Kedrodasos beach where you will meet a forest in front of the waves.