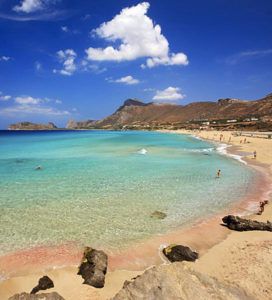 Falassarna is a little further south of Balos. The recommendations, most likely, are unnecessary. It is one of the most prized beaches in the world and the most visited ones. It is not just our opinion, the Guardian has also the same opinion.
The iridescent sea with its gentle waters will fascinate you as well as the long coastline that "breaks" into 5 smaller beaches gives you the opportunity for many options as the coast has organized and unorganized places. Needless to say … but we will mention it, the beach is certified with the Blue Flag of the European Union.
It would be unfair at this point if we did not refer to the enchanting sunset that someone can enjoy in Falassarna. It is also the main characteristic of the area and one of the most beautiful you have seen in your life. Relax on the beach watch the sun that starts from above and without any obstacle, slowly disappears into the sea, as it dives in the calm waters too.
One advice from us: parking in Falasarna is very easy, so do not hesitate to visit the area with a larger car than you had in mind.