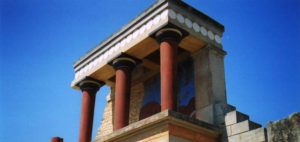 One of the most famous monuments of world culture is in this county and you can easily visit it by taking a trip with us.
Just 5 kilometers south of the city of Heraklion and easily accessible Knossos is there to travel you thousands of years back in time as the parts of the buildings have been preserved in good condition over the centuries that have been passed.
Unique myths have been linked to the area such as the Minotaur and as well as Daidalos and Icarus, which in combination with the Minoan palace create a sweet journey between myth and reality.