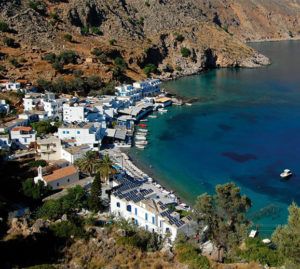 One last destination we propose in the southern prefecture of Chania is the "humble" and quiet Loutro. It is located 71 kilometers south of Chania, in the safety of a small bay, belongs to the municipality of Sfakia and has been named after the baths which have been discovered there.
The area is of intense archaeological interest since it was probably the ancient city of Phoenix and it was the port of ancient Anopolis, which later became the ancient port of Sfakia. There you will be able to visit the ruins of ancient Aradena, the Byzantine church of Archangel Michael, the government building which played its role during the Revolution of 1821 and the Anopolis.
We should inform you that if you are looking for something cosmopolitan, then Loutro is not the right choice for you but if you prefer the tranquility and a place that will take you back in time then this picturesque fishing village is the right choice for you.