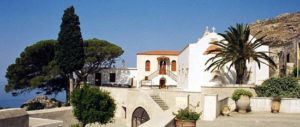 One of the most characteristic locations of Rethymno is the Monastery Preveli. Beautiful and just 37 km south of Rethymnon you will find it on the western slopes of the Great River and the palm tree forest of the area.
With two monasteries (the Lower Monastery of Prodromos and the Monastery of the Theologian) are the main volume of the monastery, as well as four smaller monasteries, the Preveli Monastery can travel the visitor for centuries back to Byzantine times where it was built.
We have to say that the Kourtaliotiko gorge, which is well known for its beauty as well as the high ecological significance it has for the island and for the entire Mediterranean Sea, is identical with the region and it includes great biological diversity.