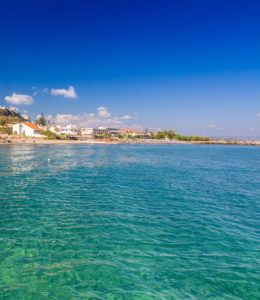 If you are looking for a more cosmopolitan destination and also close to Chania then Agia Marina, Platanias as well as Stalos and Maleme are all the ideal options for you . These are villages in the prefecture of Chania, which have been included in the list of the most touristic regions of Europe in recent years.
The options for each visitor to these places are countless. There you will find all the possible categories in the food service area as well as in this accommodation. From street souvlaki to Asian cuisine and from cheap apartments to luxurious villas. At the same time, the types of entertainment vary so that they can meet the needs of all ages and all cultures.
However, in these places, you will also find places of cultural interest such as the Nerospilia in Agia Marina, which was a place of worship in antiquity.
Since the above locations are within easy reach of Chania you could visit them even with a motorbike!
In closing for Platanias, we have to tell you that is certificated with Blue Flags to many of its beaches.