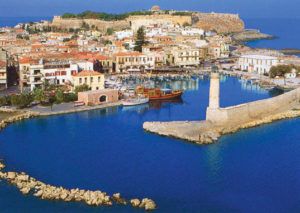 It is time to talk about one of the most charming cities in the island. Rethymno is an hour's drive east of Chania, it is very densely populated and attracts the impressions of the people who visit it.
It is not difficult to understand why … you see the small Venetian harbor with the glorious lighthouse (reminds of that of Chania), the deep blue sea, the Fortezza castle, the scattered minarets and the streets of the city, the rest of the Venetian monuments (Loggia , Rimondi fountain, etc.) and the picturesque alleys are just a few of the reasons why visitors can enjoy Rethymnon from the first moment.
Rethymno, like the other cities of Crete, has a history that dates from the ancient years, it has been developed very much in the Middle Ages by the Venetians (the monuments and streets that they built are still preserved) and today it is a modern city capable of covering all the needs of its inhabitants.
Finally, do not forget that Rethymnon is the home of Zeus, and it is true that there is something divine in this city, as confirmed by the thousands of visitors and visitors who return there every year.