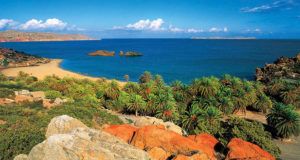 Vai and its palm tree forest are definitely one of the most popular places in the whole of Crete and the Mediterranean since it is also the largest palm forest in Europe. Something that you could expect, as you will not find anywhere else a palm tree forest in front of the sea waves, which together with the sandy beach make thousands of tourists arrive every year there.
The forest occupies an area of ​​250 acres, it has been declared a protected area and there you can find a small wetland. We have to inform you that the area is fenced and that camping is not allowed because in the past the campers had turned the palm tree forest into a rubbish dump.
Finally, let's say that the beach is certified with the Blue Flag of the European Union.